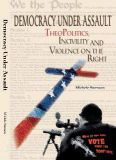 Original Intent' Supports Abortion [audio clip]
---
---
---
---
---
---
---
---
---
---
---
---


Democracy Under Assault
Theopolitics, Incivility and Violence on the Right
Michele Swenson
---
Related Books
Shop Independent Booksellers:
  
Tattered Cover Bookstore

GLOBAL SENSE by Judah Freed Awakening our Personal Power for Democracy and World Peace Earth. (updates Common Sense by Thomas Paine) Foreword by Thom Hartmann, Preface by David Wann, Afterword by Vandana Shiva.
 
Advocating practical idealism, Global Sense follows Paine's structure and logic to argue that because we're all globally interactive, we each have the power to change the world by changing ourselves. The evolution revolution is here

---
The Future of Freedom: Illiberal Democracy at Home and Abroad
 
Democracy has reshaped politics, economics, and culture around the world. This provocative book asks, can you have too much of a good thing?
 
Today we judge the value of every idea, institution, and individual by one test: is it popular? Or, more practically, do the majority of those polled like it? This transformation has affected not just politics but also business, law, culture, and even religion. Every institution and profession in society must democratize or die. Democracy has gone from being a form of government to a way of life.

---
The Revolution Will Not Be Televised : Democracy, the Internet, and the Overthrow of Everything - by Joe Trippi
 
For those who thought the Dean campaign ended with a screaming speech in an Iowa ballroom, this book is a wake-up call. Joe Trippi explains how -- right now -- Internet democracy is trans forming every aspect of American life by evenly distributing power.

---
Plan of Attack - by Bob Woodward
 
Plan of Attack is the definitive account of how and why President George W. Bush, his war council, and allies launched a preemptive attack to topple Saddam Hussein and occupy Iraq. Bob Woodward's latest landmark account of Washington decision making provides an original, authoritative narrative of behind-the-scenes maneuvering over two years, examining the causes and consequences of the most controversial war since Vietnam.

---
Armed and Dangerous - by James Coates
 
With a New Preface by the Author The investigative journalist James Coates details the history, geography, ideological roots, and psychological motivations of the principal groups of the radical right-neo-Nazis, white supremacists, compound dwellers, tax protesters, extreme fundamentalist Christian sects, and messianic cults. This book makes clear the connections between the survivalist movement that arose in the 1980s and current right-wing militancy. Notes, index.

---
Chain of Command : The Road from 9/11 to Abu Ghraib - by Seymour Hersh
 
In Chain of Command, Hersh takes an unflinching look behind the public story of President Bush's "war on terror" and into the lies and obsessions that led America into Iraq. He reveals the connections between early missteps in the hunt for Al Qaeda and disasters on the ground in Iraq.

---
Health Care Meltdown: Confronting the Myths and Fixing Our Failing System - by Robert LeBow, MD
 
America's health care financing system is dangerously antiquated. Meanwhile, the pharmaceutical industry, the insurance companies, and the elite of the medical profession are doing their best to keep Americans clueless about the benefits of single-payer reform.

---

Democracy Under Assault